REMINDER FROM DENISON SCHOOL: DOORS TO BUILDINGS ARE LOCKED UNTIL 7:30. PLEASE DO NOT DROP OFF CHILDREN UNTIL 7:30. THANK YOU

DONATION FOR PTA CHRISTMAS BASKETS NEED TO BE TURNED IN BY FRI., NOV.10. PRE-K AND KG-HUNTING, 1-3 - GIFT CARDS, 4,5 - CAMPING, 6,7,8 - SPA THANK YOU SO MUCH!

PICTURE ORDERS ARE DUE TODAY. FUNDRAISER ORDERS WILL BE DELIVERED ON THURS., NOV. 9TH AND WILL BE AVAILABLE FOR PICK UP AT THE SCHOOL FROM 11 UNTIL 2. THANK YOU

Denison Student Council will host a barbecue fundraiser during next weeks basketball tournament. Proceeds will be donated to the Adopt an Angel program. Thank you for your support!

Thurs., Nov. 2nd last full day for Book Fair. Friday - open from 8-9 a.m. Thank You

JOM PARENT MEETING TODAY AT 5:30 IN DENISON LIBRARY.

PTA BOOK FAIR OPENS THURSDAY 8-3. RUNS THRU FRIDAY 11-3. FAMILY NIGHT OCT. 27 UNTIL 7:00.

Reminder: ALL parents/guardians must check in at the office when visiting the school. This includes eating lunch, dropping off lunch, and p/t conferences. Thank you - Jordan Hill

PTA REMINDER: IF YOU ARE BRINGING CHIPS OR DESSERTS FOR TEACHERS FOR PT CONFERENCES. PLEASE HAVE AT SCHOOL BY 3:30 TUESDAY. THANK YOU

PTA MEETING, TUESDAY, OCT.10 AT 9:00 A.M. IN THE LITTLE GYM WORKROOM.

JOM Parent Meeting, Oct. 10 at 5:30 in the Denison School Library Hope to see all JOM parents there. Thank You

Oct. 3 - Individual yearbook pictures. Oct. 3 - Fundraiser orders due Oct. 4 - Group, Basketball and Cheer pictures Oct. 5 - Vision Screening

GRADES 1ST THRU 4TH. MINI CHEER FORMS AND MONEY DUE WED., OCT. 4TH. THANK YOU

Tues., Oct. 3, All fundraiser orders due. Tues., Oct 3, Yearbook individual pictures Wed. Oct. 4, Group, Basketball & Cheer Pictures

Denison School Fundraiser Orders are due October 3rd! If you have any questions please call. Thank you!

JOM Meeting September 28th at 5:30 P.M. in the library. Please come out and support your JOM program!

Congratulations to Kaydance McKinney, Baylee Byington, Braeson Scarborough, Kyson Jefferson, Tyler Dillard and Cade Clouse for receiving the Choctaw Nation Star Program Student Award for All A's and B's.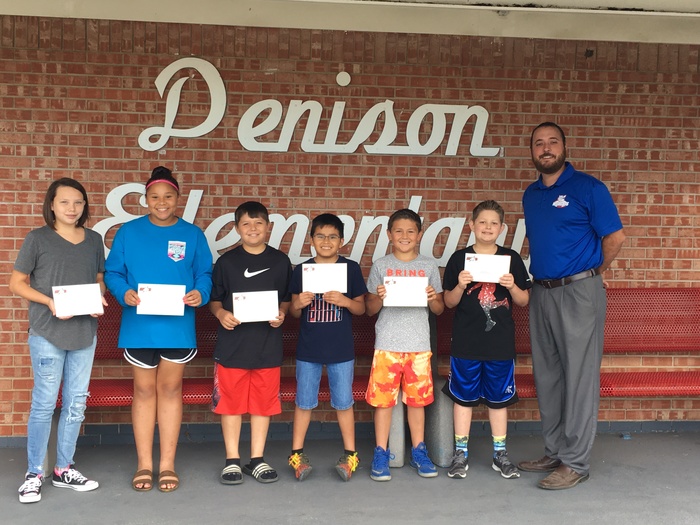 Congratulations to Eli Bryan, Richard Luevano, Trenton Crane and Wyatt McGee for receiving the Choctaw Nation Star Program Student Award for All A's.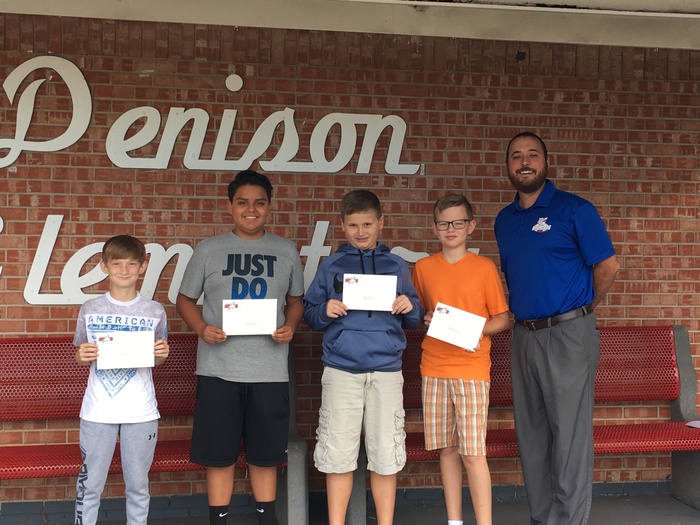 REMINDERS: SEE YOU AT THE POLE 7:30 A.M. WED. LAST CHANCE TO ORDER PTA T-SHIRTS, WED., SEPT. 27 AT 10:00 AM. THANK YOU

DENISON BUSES WILL RUN AT NOON. THANK YOU