Denison School Fundraiser Orders are due October 3rd! If you have any questions please call. Thank you!

JOM Meeting September 28th at 5:30 P.M. in the library. Please come out and support your JOM program!

Congratulations to Kaydance McKinney, Baylee Byington, Braeson Scarborough, Kyson Jefferson, Tyler Dillard and Cade Clouse for receiving the Choctaw Nation Star Program Student Award for All A's and B's.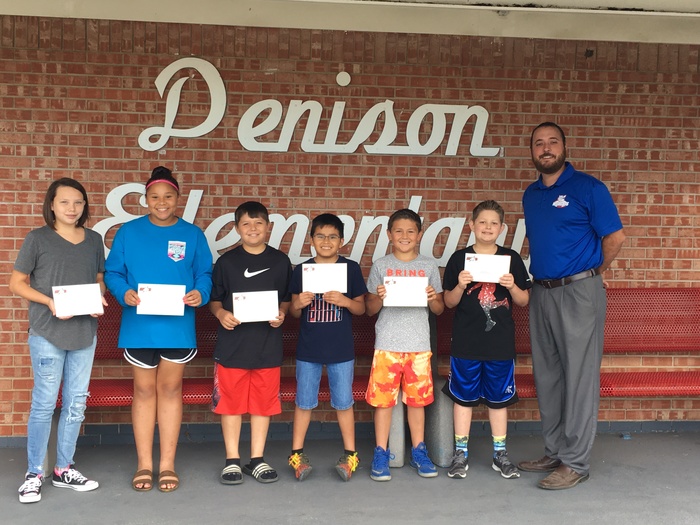 Congratulations to Eli Bryan, Richard Luevano, Trenton Crane and Wyatt McGee for receiving the Choctaw Nation Star Program Student Award for All A's.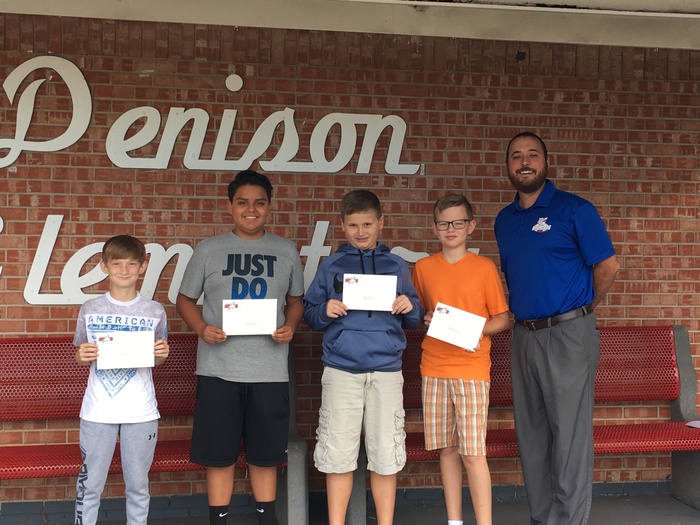 REMINDERS: SEE YOU AT THE POLE 7:30 A.M. WED. LAST CHANCE TO ORDER PTA T-SHIRTS, WED., SEPT. 27 AT 10:00 AM. THANK YOU

DENISON BUSES WILL RUN AT NOON. THANK YOU

REMINDER - DENISON SCHOOL DISMISSES TODAY AT 12:00. BE SURE YOU CHILD HAS A RIDE! THANK YOU

JUST A REMINDER THAT THERE IS NO SCHOOL MONDAY. HAVE A SAFE AND FUN LABOR DAY WEEKEND.

Denison Public School Bond Election - Please VOTE on September 12th!

Meet The Teacher, Wed., Aug. 16, 3:30 - 5:30. Classes begin Thursday, Aug. 17

5 - 8th AWARDS THURS. 8:30. STUDENTS DISMISSED FOLLOWING AWARDS. BUSES WILL RUN AT 11:00. HAVE A GREAT SUMMER!!

CORRECTION 3RD GRADE AWARDS ARE AT 11:00 TODAY.

DENISON AWARDS SCHEDULE FOR WED. - 9:00 2nd grade, 10:00 - 1st grade, 11:30 - 3rd grade, 1:00 - 4th grade. THURSDAY - 5th thru 7th - 8:30. ALL AWARDS ARE IN THE BIG GYM

TUESDAY, MAY 9 - PRE-K AWARDS 8:10 IN THE CLASS ROOMS. KINDERGARTEN GRADUATION - 9:00 IN THE BIG GYM. STUDENTS DISMISSED FOR THE SUMMER AFTER THEIR PROGRAMS. THANK YOU!

DENISON SCHOOL WILL HAVE AN EARLY DISMISSAL TOMORROW (THURS.)FOR GRADUATION. BUSES WILL RUN AT 2:05 AND CAR RIDERS WILL NEED PICKED UP AT 2:10. PLEASE CALL THE OFFICE AT 286 3310 WITH ANY CHANGES.

Pre-K track Meet for today has been postponed and will start at 9:30. Thank You

DENISON READING FAIR IS WED., MAY 3RD. BOARDS SHOULD BE SET UP IN THE GYM BY 8:30 A.M. THANK YOU

MRS. CHAPMAN'S BUS WILL RUN 1 HOUR EARLY TODAY. IT WILL LEAVE THE SCHOOL AT 2:15 AND CHILDREN WILL ARRIVED HOME ABOUT 1 HR EARLY. PLEASE CALL IF ANY QUESTIONS. THANK YOU

FIELD DAY SCHEDULES: MON., MAY 1- 1ST & 2ND 8:30. 3RD & 4TH 12:30. TUES., MAY 2 PRE-K 8:30, KG 11:30.

DENISON SCHOOL IS HAVING PHONE PROBLEMS. PLEASE USE 286-5979. HOPEFULLY LINES WILL BE FIXED SOON. THANK YOU